World
53-year-old Hudson River swimmer nears end of 315-mile journey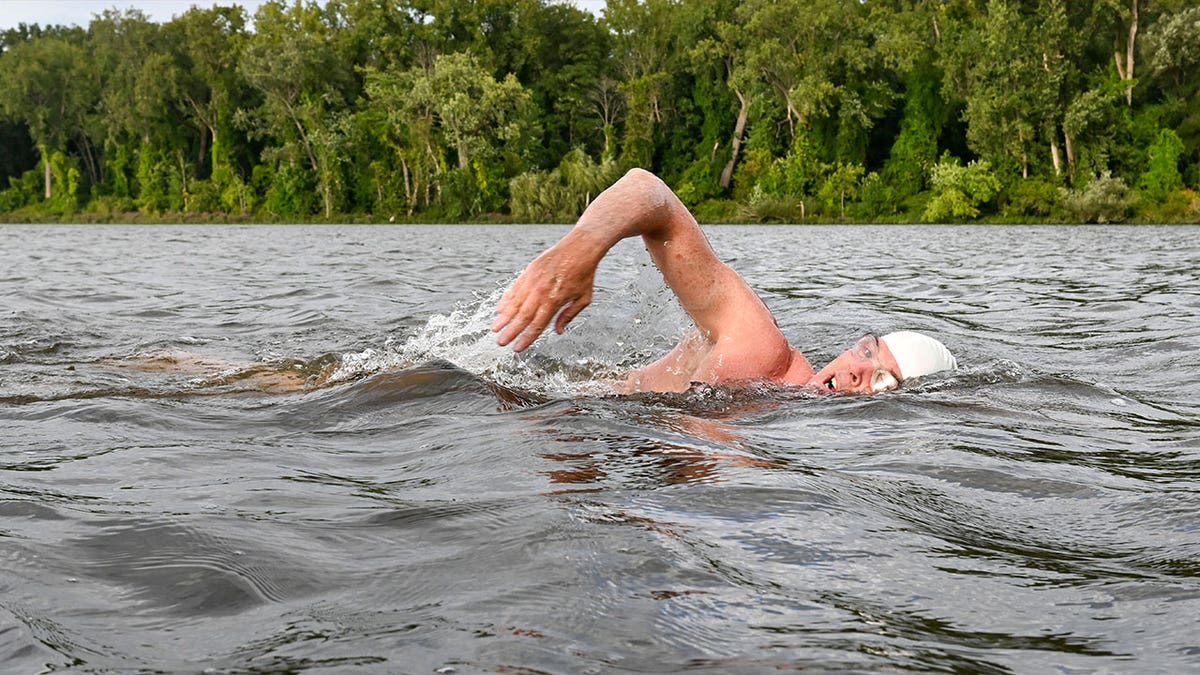 Lewis Pugh, a British endurance swimmer, is about to complete his 315-mile journey across the Hudson River, which stretches from the Adirondack Mountains to New York City.
The 53-year-old swimmer of the Hudson River, which is known for being tainted by industrial chemicals and sewer runoff, plans to highlight the critical role rivers play in a habitable planet.
Pugh plans to finish his monthlong trip Wednesday at the lower tip of Manhattan.
The Hudson River snakes through forests and rushes over boulders in the Adirondack Mountains before settling into a wide, slow flow closer to New York City. It stretches 315 miles from source to end.
Lewis Pugh is about to finish swimming all of it.
The 53-year-old endurance swimmer plans to finish the last miles of his monthlong river journey Wednesday at the lower tip of Manhattan. After countless crawl strokes, Pugh has powered through fatigue and sore shoulders. He has dodged tugboats and bobbing plastic garbage. He insists that any discomfort is worth it to highlight the Hudson and the importance of clean rivers.
WEST VIRGINIA COMMUNITY ORDER TO NOT USE TAP WATER ENTERS ITS 4TH WEEK FOLLOWING WATER PLANT MALFUNCTION
"There is no other river in the whole world where at the source, you've got beavers, you've got bears, you've got vultures," Pugh told The Associated Press before a leg of his swim recently. "And then at the end, you come underneath the George Washington Bridge and you breathe to your left-hand side and you see these amazing skyscrapers."
The Plymouth, England resident has taken other high-profile swims, including one 76 miles long across the Red Sea and a 328-mile swim the length of the English Channel.
Swimming the length of Hudson has been done before, by Christopher Swain in 2004. While Swain wore a wetsuit, Pugh swims in a Speedo, generally trying to cover 10 miles a day.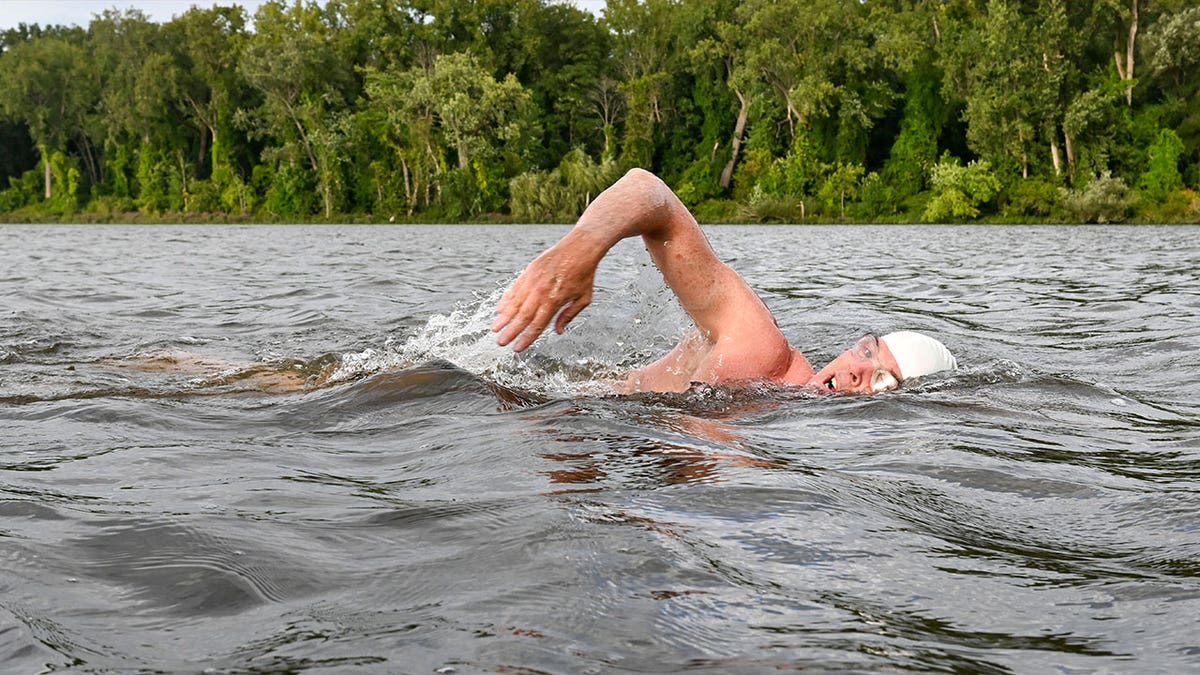 For a recent leg south of Albany recently, he snapped a cap and goggles over his head before jumping feet first from the inflatable boat accompanying him. He made sure to first take a swig from a bottle of Pepto-Bismol, a nod to the less-than-pristine water. He also rinses with an antiseptic mouthwash, washes up with surgical soap and wears ear plugs.
Support team members followed in the boat and a kayak.
The latter half of Pugh's swim is on the Hudson estuary, the section of river affected by the tides that stretches from New York Harbor to above Albany. He tries to swim with the tide, but he said wind and choppy water make progress harder.
"Imagine driving down a dirt road which has been corrugated, and that that's the feeling when you're swimming into this chop for hour after hour after hour," he said.
FREIGHT TRAIN THAT DERAILED INTO YELLOWSTONE RIVER AS BRIDGE COLLAPSED WAS HAULING HOT ASPHALT, MOLTEN SULFUR
The challenges were different when Pugh started on Aug. 13 at Lake Tear of the Clouds, high on Mount Marcy. In the Adirondacks, parts of the river are too shallow to swim, so Pugh ran along the banks. Other fast-flowing stretches have enough rocks to create what Pugh calls a "high consequence environment."
"I'm just in a Speedo, cap and goggles," he said. "And so if you hit a rock, you're really going to come off second best."
Pugh had to take terrestrial detours around waterfalls, dams and locks, although he was able to swim through one lock. Those obstacles disappear on the estuary, which becomes wider with more development crowding the shores.
CLICK HERE TO GET THE FOX NEWS APP
The Hudson was notorious decades ago for being tainted by everything from industrial chemicals to old tires and sewer runoff. Even as late as 2004, when Swain swam the length of the river to encourage its continued cleanup, a New York Post headline read: Love That Dirty Water; Eco-Nut Swims The Slimy Hudson River.
Cleanups and tighter regulations have helped slowly transform the river into a summer playground for more kayaks, sailboats and even swimmers. The water is still not perfect. Sewage overflows into parts of the Hudson after heavy rains, for instance.
Noting that more work is needed, Pugh says the Hudson River is still a powerful example of how a waterway can rebound. It's a message he hopes to deliver when he emerges from the water at Manhattan's Battery Park.
"This is the one river in the whole world which can send a message of hope to everybody: That your river — whether it be in Britain, whether it be in France, India, China — that your river can one day be saved."