Business
Why the end to interest rate hikes is now in sight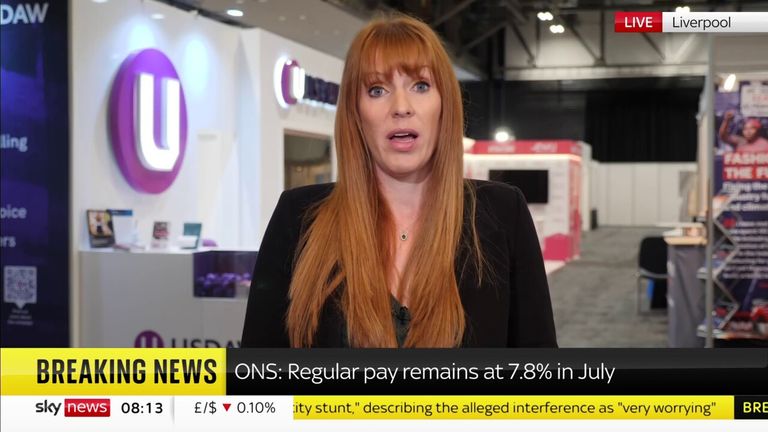 Wages are outstripping inflation for the first time in more than a year, meaning our living standards are no longer declining. 
So, have we finally found a way out of the cost of living crisis?
The headline figures from the official statistics release sound promising but, for most people, they simply don't ring true.
'Most people are still finding it incredibly difficult'

Average pay growth, excluding bonuses, hit 7.8% in the three months to July.
It exceeded July's headline inflation rate of 6.8%, meaning living standards are rising. However, the figures are averages that mask a plethora of varied experiences across the economy.
While some workers have managed to boost their incomes, the vast majority are poorer than they were last year.
A closer look at the data shows that the biggest beneficiaries have been those working in finance, where wages rose by 9.4% during the period. This was followed by the manufacturing sector, which enjoyed its highest growth rate since records began with pay increases of 8.2%.
For everyone else, pay lagged inflation. In the public sector, where recurrent strike action has brought services to a standstill, average pay growth came in at 6.2%.
It means inflation is still having a pernicious impact on our livelihoods at the same time as high interest rates are driving up mortgage costs and rents.
Ken Clarke 'worried' for UK economy

Pay growth may be unevenly distributed but it is still concerning the Bank of England. The central bank fears that such robust growth at the aggregate level could fuel inflation higher, so it is likely to impose a further interest rate hike at the next policy meeting.
So we are all paying the price for those enjoying above-inflationary pay rises.
Higher interest rates are squeezing economic activity, which is also leading to a rise in unemployment.
With a drop of 207,000 jobs, it marked the biggest employment fall on record outside of a recession.
Forward-looking indicators like vacancies also fell, which suggests that the labour market is cooling faster than the Bank of England thought it would.
The unemployment rate is already above its forecast of 4.1% for the third quarter of this year. That should take the pressure off wage growth and means the end could be in sight for the bank's interest rate hikes.