Business
AP: U.S. Makes Deal With Tehran To Swap Prisoners, Release $6 Billion In Frozen Iranian Funds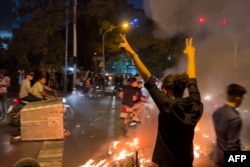 Javad Ruhi survived three death sentences for participating in protests in Iran last year, only to die under mysterious circumstances last week.
People familiar with Ruhi's case said the 31-year-old never stood a chance — that even after his death sentences were overturned by the Supreme Court, he was told he would "never leave prison alive."
Speaking to RFE/RL's Radio Farda, a source close to the family said Ruhi was as good as dead when he was first sentenced to death 10 months ago after being targeted by security forces for taking part in the antiestablishment protests that swept the country last year.
"Javad died the moment they handed him three death sentences," said the source, who spoke on condition of anonymity for fear of retribution.
"Although the verdicts were later overturned, Javad never returned to normal," the source added. "The mental pressure and trauma caused by the sentence and the accusations that were made against him were terrible."
Ruhi was arrested by Islamic Revolutionary Guards Corps officers in Nowshahr, in the northern Mazandaran Province, on September 22, 2022 after being spotted in a video showing him dancing during protests in the city the day before.
The protests were among the first of the wave of street demonstrations that took place nationwide following the death in police custody just days earlier of Mahsa Amini, who had been detained in Tehran by the morality police for allegedly violating Iran's controversial hijab law.
His family knew nothing of his fate until they received a seconds-long call from him six weeks later saying he was at an undisclosed medical facility. Only in November did the family learn that Ruhi was being held at the main prison in Nowshahr and were allowed to see him.
In December, a Revolutionary Court in Mazandaran's provincial capital, Sari, handed down three death sentences against Ruhi on charges of "enmity against God," "corruption on Earth," and "apostasy." Rights groups have said the last charge was based on his confession under torture that he had burned a copy of the Koran, Islam's holy book.
The sentences, which rights groups criticized as grossly unfair and said were based on a single hearing, were eventually commuted in June by the Supreme Court.
But in an interview with Radio Farda this week, a source close to Ruhi's family said the prison authorities never had any intention of letting him live.
"The interrogator did not give up," the source said. "He told him: 'You will never leave prison alive."
On August 31, Ruhi's lawyer, Majid Kaveh, confirmed that the prediction had come true.
Family members told the lawyer that Ruhi had died that day at Nowshahr prison, putting an end to a lengthy ordeal marked by legal wrangling and allegations that Ruhi had been illegally incarcerated and sentenced, tortured until he confessed to crimes he did not commit, and denied medical treatment.
The Mizan news agency, which is affiliated with Iran's judiciary, said Ruhi had been transferred to a prison hospital on August 31 after suffering a seizure but that medical personnel were unable to save him. Mizan also said Ruhi had visited the hospital twice the day before he died, and been prescribed anti-inflammatory and cold medicines and received oxygen treatments.
But the source close to Ruhi's family told Radio Farda that he suffered mentally due to his incarceration, did not receive adequate care, and was repeatedly sent back to prison when he needed longer-term hospitalization.
"He was not well at all…. Every time he went to the prison hospital, he was returned to prison," the source said. "They did not pay attention to his condition until it was too late."
The attorney Kaveh, speaking to Iran's Shargh daily, said it had been made clear to the judicial authorities that his client required hospitalization, but that his court filings for long-term medical treatment had been ignored.
Rights groups harshly criticized Ruhi's sentencing and treatment in detention. Amnesty International, in an appeal for urgent action issued in January, noted that Ruhi maintained during court proceedings that his participation in the September protests in Mazandaran was peaceful.
During his first six weeks of "forced detention" in secret — which the rights watchdog said was a violation of international law — Ruhi was "subjected to severe beatings and floggings, including on the soles of his feet and while being tied to a pole, electrically shocked with tasers, exposed to freezing temperatures, and sexually assaulted by having ice put on his testicles for 48 hours."
Ruhi also endured severe mental distress as a result of his sentencing, according to the source close to his family, who said the three death sentences essentially "killed him."
"The word execution is very scary. Imagine three death sentences. For what? There was no evidence. What did they have except his confession? They made him confess under torture," the source told Radio Farda.
After Ruhi's legal representation contested the death penalties, the case weaved through the judicial system and eventually reached the Supreme Court, where Kaveh argued that his client's only actions during the Nowshahr protests were dancing in the city square and throwing some hijabs on a fire.
The Supreme Court appeared to back the defense's argument when it overturned the death penalties in June and returned his case to a lower court for retrial, according to court documents reviewed by Radio Farda at the time.
But Ruhi nevertheless remained in detention as he awaited additional proceedings. In August, lawyer Kaveh expressed deep concern over what he said seemed to be the "disregard for the Supreme Court ruling."
Immediately following Ruhi's death, Amnesty International said that "Iran's authorities subjected Javad Ruhi to a litany of crimes under international law and other human rights violations."
Amnesty also said that "all those reasonably suspected of responsibility for crimes under international law against Javad Ruhi must be criminally investigated and held to account in fair proceedings."
The rights watchdog backed calls for an independent investigation, saying that his "death in custody again exposes the Iranian authorities' assault on the right to life."