Business
Air Force Secretary Scorches Tommy Tuberville Over Military Promotion Blockade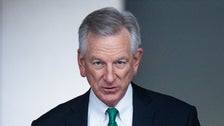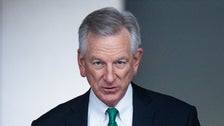 Air Force Secretary Frank Kendall went after Sen. Tommy Tuberville (R-Ala.) for his blockade of hundreds of military promotions.
"Sen. Tuberville has no experience in the military. It's his first time in public service and I don't think he appreciates how much of an impact this is having and how negative an impact it is for the military," Kendall told CNN's Jim Acosta on Saturday.
Kendall's remarks arrive as the Alabama senator and ex-college football coach continues to put promotions on hold to protest the Pentagon's policy on providing service members with paid leave and covering travel costs to get an abortion in another state.
Kendall, along with Army Secretary Christine Wormuth and Navy Secretary Carlos Del Toro, recently penned a Washington Post op-ed where they referred to acting officials in roles "without the range of legal authorities necessary to make the decisions that will sustain the United States' military edge."
Tuberville told CNN that he's "not budging" and added that if he thought he was "really harming" the military he wouldn't be holding the promotions.
Kendall, who called the blockade "totally unprecedented," said Tuberville doesn't understand what's happening before pointing to the need for the military to fill recently-vacated positions.
"We have people all over the country who can not move to their new organization, it's having a big impact on their families, it's very disruptive, very debilitating," he said.
"It basically is like throwing a big monkey wrench into the works of the Department of Defense."
Kendall wasn't the only harsh critic of Tuberville on Saturday as retired U.S. Army Gen. Wesley Clark also told Acosta that the senator's hold is a "national security problem."
"Not only is it blocking promotions and assignments and policy changes and preparation for potential war against China and military assistance to Ukraine in its ongoing war but it's brought politics into this," Clark explained.
He continued: "Now what can be done? What normally would be done is every federal program that's going to Alabama would be choked off and you'd make a private issue of this, you'd go to the leadership in the Senate, you'd tell Mitch McConnell if you don't crack down on this we're going to take away your programs in Kentucky. This is hardball."